June 8th 2011, University of Lapland
The Green Growth seminar engaged the question of whether a 'Green Growth' opportunity exists for the Arctic, or whether the destiny of the North is to remain an area of resource extraction. The seminar was held as part of the University of the Arctic 10 Years celebrations.
The seminar was chaired by Lars Kullerud, President, University of the Arctic and Suvi Ronkainen, Vice-Rector, Research, University of Lapland. Opening words were provided by Arctic Ambassador Hannu Halinen and Anita Lehikoinen, Director of the Department for Education and Science Policy, Ministry of Education. Mr Halinen highlighted how know-how and the quality of research is a matter of pride in Finland and that good policy making needs accurate knowledge. For this reason, the interdependency of arctic research within the University of Arctic and decision making in the Arctic Council is of crucial importance. Ms. Lehikoinen, who has been a key figure at the birth of UArctic, highlighted mobility as a flagship feature of UArctic.

Further, keynotes were provided by Ólafur Ragnar Grímsson, President of Iceland; Hannele Pokka, Permanent Secretary, of the Ministry of the Environment; Gustaf Lind, Chair of Senior Arctic Officials of the Arctic Council, Sweden and Ms. J. Okalik Eegeesiak, President of the Qikiqtani Inuit Association, Nunavut, Canada.
President Grímsson highlighted how the Arctic could become a new intellectual frontier, however, progress must be firmly founded on scientific discoveries. Dr. Pokka reminded that the Arctic belongs to the Northerners, and that the Arctic Council needs to be the voice of the Arctic. Dr. Lind pointed out that Green Growth is a goal to be pursued during the Swedish Arctic Council chairmanship. Finally Ms Eegeesiak provided a strong voice for the indigenous people of the Arctic, reminding us that indigenous people's lifestyles respect sustainability limits. The Innuit do not separate themselves from their enviroment. The Arctic has been their home before it became of interest due to its natural resources, and will continue to live there after the last drop of oil and gas has been exploited and the last of the metals have been unearthed. She also reminded us of the shortsidedness of cultural bias and the dangers of knowledge transfer without respect of local conditions in the Arctic.

The seminar continued by comments and views provided by panelists Nicolas Bertrand of United Nations Environment Programme, Switzerland; Dr. Eva Pongrácz, Director of NorTech Oulu at the Thule Institute, University of Oulu, Finland; Professor Rasmus Ole Rasmussen, Senior Research Fellow, NORDREGIO, Denmark; Mikhail A. Pogodaev, Chair of the Board, Association of World Reindeer Herders, Russia AND Dr. Anatoli Bourmitsov, University of Nordland, Norway.

Mr. Bertrand presented some of the recent and ongoing work of UNEP on the green economy and pointed out, in particular, that 'green economy' should not be seen as replacing but providing a pathway to sustainable development. In this context, he recalled that green economy, in the context of sustainable development and poverty eradication, was one of two themes of the Rio+20 conference in 2012. NorTech Oulu represented the role of environmental technology and innovation in green growth. It was expressed that an arctic "specialty" of environmental technologies is that we cannot view technology in isolation but need to consider its socio-economic implications. We also need a clear vision of sustainability we want to reach. Just improving resource management and boosting productivity may not be enough, we need fundamental transformations. There is also a need for incentives for the uptake of green innovations – this will require removing regulatory barriers and incoherence. NorTech Oulu pointed out that the Arctic could become an economically thriving region, where environmental protection goes hand in hand with technological development and where people are prosperous and happy. And we could also showcase that this can be achieved through cooperation and communication, and with respect of humans and their cultures and nature alike. Universities and research institutes will be key drivers in developing and dispersing environmental technologies and services and also to raise awareness. To this effect, we need to recognize that the youth of the region are the instruments of change. NorTech Oulu concluded that the key ingredients of green growth in the Arctic are awareness, knowledge and openness, and the role of the University of Arctic should be to protomote co-operation in science and technology in the Arctic and accelerate technology development and diffusion. Dr. Rasmussen presented good examples of sustainable energy efforts in the Arctic and agreed that the University of Arctic needs to take responsibility in promoting Green Growth. Mr. Pogodaev questioned if growth is possible endlessly and expressed the reinder herders' worry that the expansion of oil and gas exploration reduces their space for reinder herding. Dr. Bourmitsov responded that Green Growth should include issues of co-existence and that development needs to the done for the benefit of local population.
The issue of indigenous people's rights have continued to be the key subject during discussion. Members of the audience pointed out that indigenous people have always had green economy, it is the colonists that have exploited resources without thinking of people. President Grímsson agreed that this issue needs to be discussed openly, with Dr. Pokka adding that the Arctic Council needs to take a stronger role. UArctic student Minka Labba also expressed that Northerness need to be involved in decision making.
The consensus of the seminar was that Green Growth is not only a political rethoric and Arctic areas are interesting for more than oil and gas. It was concluded that the University of the Arctic needs to take responsibility in providing further forums such as this seminar to engage in discussion and also to continue to be a voice for indigenous people.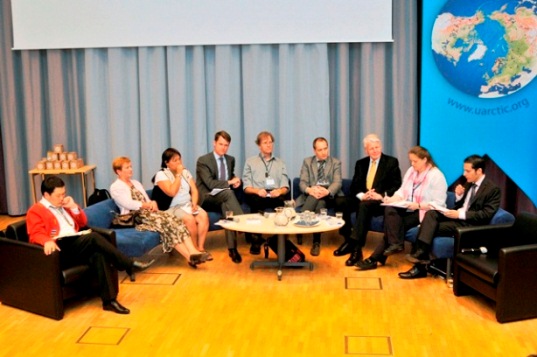 Green growth panel: Mikhail A. Pogodaev, Hannele Pokka, J. Okalik Eegeesiak, Gustaf Lind, Rasmus Ole Rasmussen, Anatoli Bourmitsov, Ólafur Ragnar Grímsson, Eva Pongrácz and Nicolas Bertrand
Photo (c) UArctic: http://www.uarctic.org/10362_sVRUvl1R1do.img



Resources on Green Growth at UNEP and OECD
Welcome to discuss and comment this issue at NorTech Oulu's Facebook page!